Another huge turnout saw our new season off to a flyer. Once again the football club had done us the wonderful honour of providing a Buffet Luncheon – a truly excellent spread enjoyed by all our gathered members. Our Chair, David, then introduced our meeting and giving a particular welcome to our guest speaker – JON BEALE, the Head of our Tiger's Academy at Bishop Burton College. Jon had not come alone. He delighted us all by bringing one of the true rising stars of the future, KEANE LEWIS-POTTER.
Jon was asked about his early years and told us that he was a Swansea boy throughout he childhood/youth until the call to come over to Hull and help develop our expanding Academy. As a young lad he had played rugby (union down there!), cricket and football whilst his sister went on to represent Great Britain in Karate. In his mid-teens he realised that he would never make the grade playing football yet wanted above all else to be involved in the game. He took up coaching and following University began a career as a sport's teacher. Two years later Tony Pennock recruited him to the Academy team at Swansea City and Jon had his dream career in football. Tony and Jon saw their club move from Category 3 to Category 2 status, developing what they had done into a much larger opportunity including sport's science. Jon, meanwhile, had been taking his coaching qualifications and was among the youngest to gain his EUFA A Licence. There is only one level above that, the UEFA Pro Licence and Jon is working hard towards that qualification with hopes of achieving it in the next 12/15 months.
Keane was then asked about his background and he was clearly chuffed to identify himself as a local East Hull lad. When it was suggested that East Hull only played Rugby League it drew a quick response from the gathered – "not very well!" Jon was quick to avoid any chance on being drawn into that 'tribal' battle! Keane had played for Hessle Rangers and Costello before the opportunity to have City trials came his way. He was quickly invited to join the Academy structure as a 13 year lad. Asked about making his 1st team debut earlier this year he said how privileged he felt to pull on the shirt and represent the Tigers at the Lion's Den – the FA Cup tie at Millwall. Last season Keane had been loaned out to Bradford Park Avenue to gain some experience and although he played mainly off the bench it had been a real help to him.
Jon shared how challenging it had been to leave South Wales and all his family to make to move to Hull with Tony Pennock. They had come with a purpose, to get our City Academy promoted to Category 2, something which they duly achieved. With changes to the first team coaching team Tony found himself drafted into a new role and Jon was then invited to step up and become the Head of the Tiger's Academy. The structure sees boys as young as 7 years coming under their support and having regular training nights. Only when they can join the Under 9's can the lads be formally signed on to the Academy. As well as the main centre on the campus of Bishop Burton College they also have satellite outposts in places like Grimsby, Selby & York. 9-11's must, however, live within 60 minutes of the Academy, 12-16's within 90 minutes whilst they can recruit 18's+ nationally and 23's internationally. There are currently 26 places in the full-time Academy including one current vacancy.
The Academy has a full time team of coaches, physios (3), sport's scientists (4) plus part-time scouts.
With the younger lads they maintain a strong connection with their school. Good behaviour and academic progress is important and whilst they may be allowed to come into the academy for some days it is always on the proviso that they do not fall behind on their school work. The full time boys will be required to continue with the education beyond football. Many will study for BTec qualifications whilst others will be encouraged to study for their EUFA C Licence and we have a 100% pass rate for this over the past 5 years. That received a warm round of applause. Jon also talked about the philosophy at the Academy that boys must look forwards to coming in – each day. He wants them to feel that every day is another Christmas Day!
Keane was to receive a number of questions from the members. Was he well looked after by the Senior Pros when he joined the fist team squad? Definitely. Did he have to take on club chores? He admitted that he had learned how to mop – at which point Jon revealed that he had learned the hard way after mopping before he swept the floor and then mopping down from the door inwards and then not knowing how to get back out of the room!
Jon revealed that scouts are always watching the local Sunday Leagues and keeping eyes on late developers to ensure that talent is not being missed. Last season had not been successful in terms of results, they finished bottom of their league but the real success had to be measured in terms of player development with a number of players training on and playing with the senior squads. Jon declared that bringing players through the ranks is the primary target and the one for which they will be ultimately remembered. This season they are showing some great promise and the previous night our Under 23's had travelled to Manchester and comprehensively beaten Man United five goals to nil!! Jon was asked what the relevance of having an Under 23's team since most players will surely have been spotted by their late teens. Jon responded by saying that our U 23's are mainly U 21's but that they can play older players who may need match practice to get back into 1st team action. They are also permitted to play up to three over 23's plus goalkeeper but it is still, primarily, a development squad.
Another question asked whether the Academy was involved in developing ladies but as yet they are not. It was felt, however, that it could only be a matter of time before they would bring girls into the academy structures. Parents play a huge role, providing crucial support but they can also be difficult to handle at times! A under 9 lad being signed up to our Academy may be dreaming of stardom but the reality is that only a very small number will ever progress to making prof-grade. The Academy promises not success but that each child will be a better footballer for his time in the structure. Meanwhile Jon felt that the link between the Academy and the 1st Team has probably never been stronger. Opportunities are definitely there for players to step up. Moving from County Road to Bishop Burton had been important in the quest to become a Category 2 Academy. Currently an Indoor Pitch is being planned.
Jon wanted to thank the Executive Club and Senior Tigers for their ongoing support providing grants to young players who need it. For some it is the provision of boots or the costs of going to overseas tournaments. Invaluable. Keane was asked about his physical strength since he was not the strongest lad in the team and could be bullied out by opposition defenders. He recognised this challenge and said that he spends extra time in the gym to build up his strength stock. He already feels that he is benefiting from this. As we closed young Keane was given the warmest of best wishes for his future with the Tigers and Jon for his leadership at the Academy.
Our focus for the October meeting will be a fascinating insight into one of the earliest men to play for Hull City. Don Patricio, as he became known, played over 100 years ago for the club but went on to become a legend of the game managing the mighty Barcelona.
Other things that were shared during our October meeting:
Dave, from the Chair, welcomed the two newly elected committee members, Paul Bryan & Elizabeth Clague and mentioned that they would share the portfolio of 'Wellbeing' for our members.
He mentioned that since our AGM, when we had some problems with our Speaker system, that it had now been condemned. The Committee had started the task of identifying new equipment.
Jeff Barmby of the Ex-Tigers had informed us that they are organising a special Fund-raising social Evening at the New Walton Club in Walton Street for the evening of Friday, 6th December. It was planned to raise funds for the family of the late Pete Skipper along with Geoff Barker & Mark Cooper. Members can apply for tickets (£7) from Tony Conway.
Barbara updated members on the special outings. There are still some places for the trip to Saltaire, a World Heritage site, on Thursday, 19th Sept. They were also reminded that this trip leaves the KCOM at 8.00 am! The trip to Middlesboro FC along with the James Herriot Centre is Thursday, 24th October, places available at £25pp. The final trip of the year will be a return trip to the National Football Museum in Manchester on Thursday, 21st November when there will also be the opportunity to visit the Arndale Centre.
Allen also spoke of the special visit to Hull Fair on Thursday, 10th October when we will meet with some of the key showmen who return year after year to entertain us. We plan to meet at 1.00 pm probably in the New Walton Club. Hopefully there will be some refreshments provided by the showmen and later the opportunity to walk round some of the fairground. Parking will be available at the Stadium and should not incur a fee! Full details will be given next month. Over 40 members had booked for this event. Others wishing to join the visit just need to contact Allen.
David announced that Brian & Brenda Beck had offered their services to the memorabilia team. This is greatly appreciated though more would still be welcomed!
Last month we launched a season-long suggestion that members, when claiming their free tea/coffee might like to make a voluntary donation to the World Wildlife Fund (save the Tigers etc). In August the contribution was an encouraging £62.20. This continues throughout the season.
Members enjoying their lunch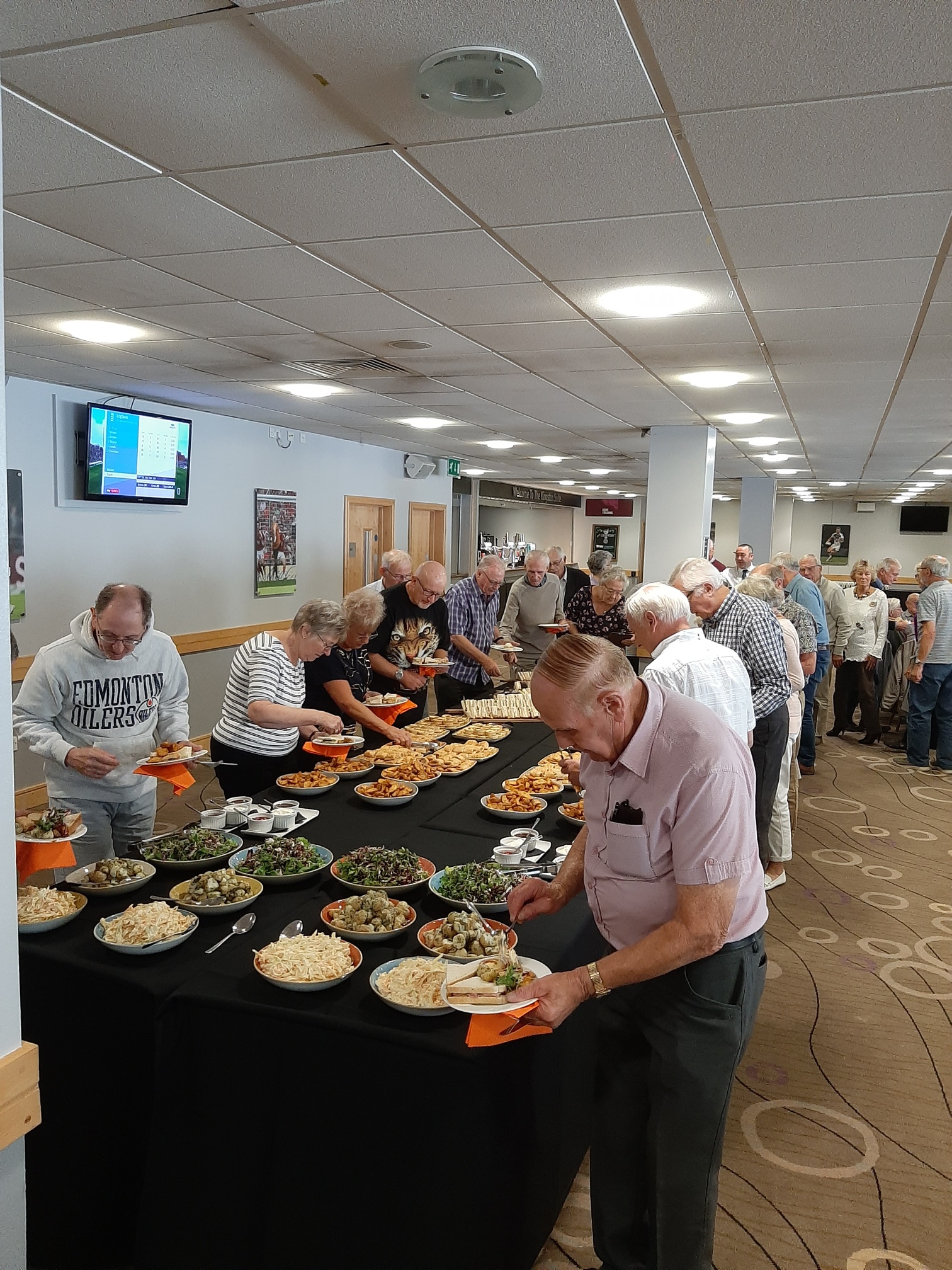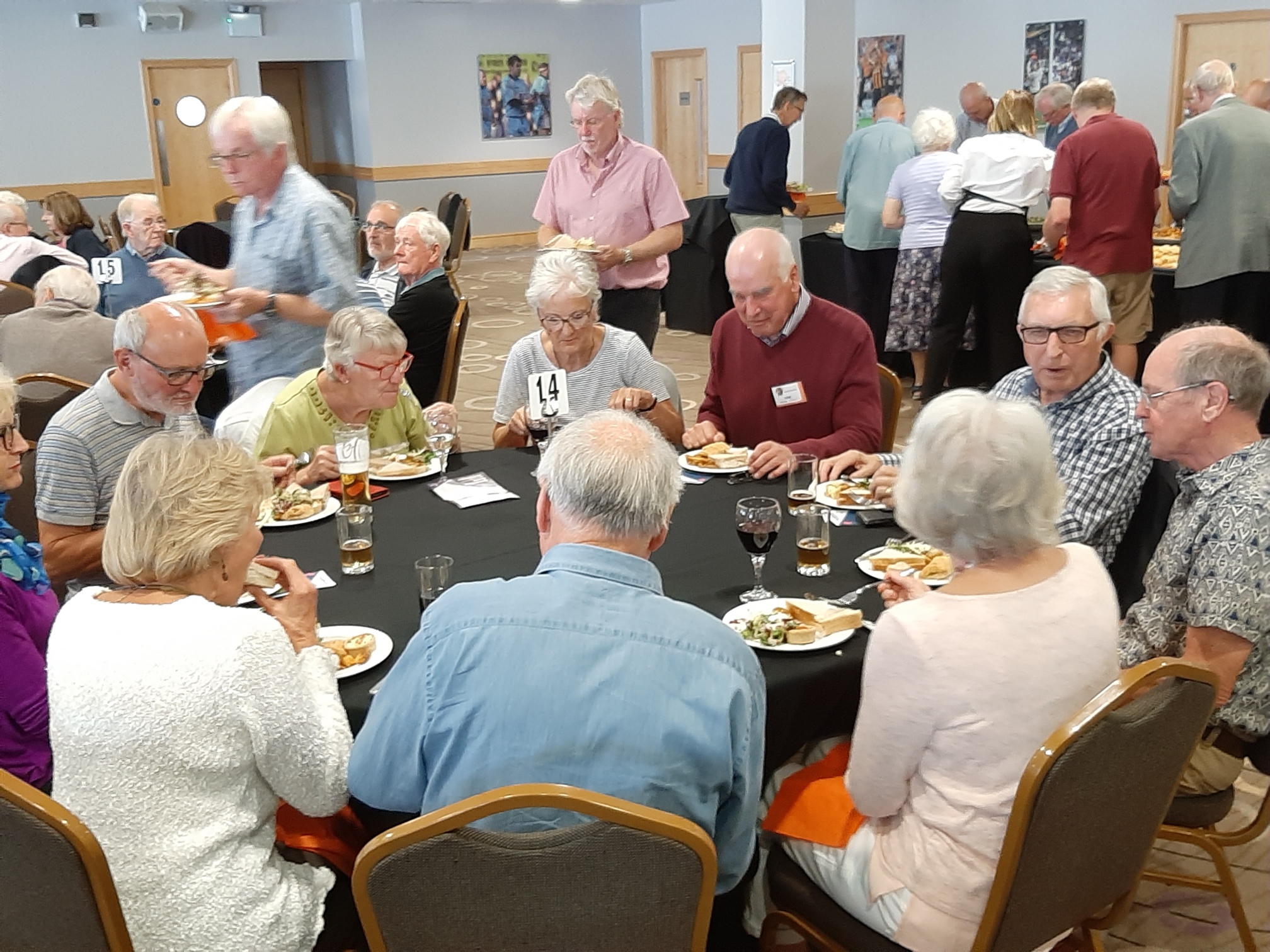 Our guests Jon Beale and Keane Lewis-Potter with our Chair Dave Jackson and also some happy raffle winners.