Our most recent outing was not one but two – and that certainly proved value for money! We set off from the KCOM at the rather early hour of 8.30 am in one of Acklam's super coaches and headed for the Derbyshire/Staffordshire borders, our first destination being the new St George's Park venue at Burton on Trent. St George's is the first dedicated centre for the Football Association, providing training and rehabilitation facilities for our beloved game. Previously they had used the facilities of the Lilleshall Centre but now football can kick on with their own dedicated facilities.
On arrival we were introduced to the opulence of the Hilton Hotel, built in partnership with the FA and providing the accommodation for over 30 England teams when they are in residence. Yes, over 30 teams! That includes not just the England senior team but the various age squads (eg. Under 18's) for the men, the ladies and the disabled. They are surrounded by a huge number of pitches including the official England pitch which is an exact replica of Wembley – size & surface.
Following our Hilton coffees we were taken on an excellent tour (our full coach required two groups) and shown round the estate. We would see the indoor training facility, the gymnasium, full size indoor pitch and the number one pitch already referred to. We were taken towards the training rooms (many of them) and the hydrotherapy centre which includes swimming pool and plunge pools etc. A few days after our visit the full England squad would be in residence and that morning we were waiting to see if our Harry had made that squad – sadly not on this occasion. It was fascinating to see this country retreat with every possible state of the art facility. We saw the interesting graffiti wall of signatures – it would make a great quiz to see how many names you could recognise!
In the Rehabilitation Centre they had another wall where players were able to record their appreciation following their course of treatment.
That visit, alone, would have been an excellent outing yet we had more! Just a short coach ride away brought us to the National Memorial Arboretum at Alrewas. This dedicated centre has quickly become of focus of remembrance for our nation. Apart from the central Armed Forces Memorial there are another 300 memorials, each one worth a visit. Following our lunch, on arrival, we took our places on a land train that would take us round the huge site. This hour long tour meandered its way with a clear and very helpful audio commentary. It could not possibly identify every memorial but it introduced us to significant ones, representing fields of conflict, regiments and trades. Many of the memorials were significant sculptures and very worthy of those they honoured. For me, having visited on a number of previous occasions, I can't help but be moved by the 'Shot at Dawn' Memorial which remembers those who for many decades were forgotten in ignominy – cowards who deserted at the hour of need. What we now recognise is that these were men who had given their all in the theatre of war and had seen too much and suffered greatly. Men like Private Charles McColl of 6 Bramham Avenue, Woodhouse Street, Hull. He had served, been 'blown up' and suffered heart complications but patched up was sent back to France in 1917. Suddenly faced with the front line he broke down. For that he was shot at dawn and his mother Annie was left to mourn alone for the rest of her life. It took many decades to bring their memories back. That 'Shot at Dawn' memorial is now one of the most visited sites at the Aboretum.
Alongside it is the Memorial of the Showmen's Guild which remembers the many showmen who gave their lives in the two great wars. I had confidently informed our members to look out for the carousel horse that stands alongside only to find that the horse has galloped away – for maintenance!
It was clearly a memorable visit and a number of our members took opportunity to reflect and think.
Our day at St George's and the National Arboretum was a very special day that will stay long in our memories.
Allen Bagshawe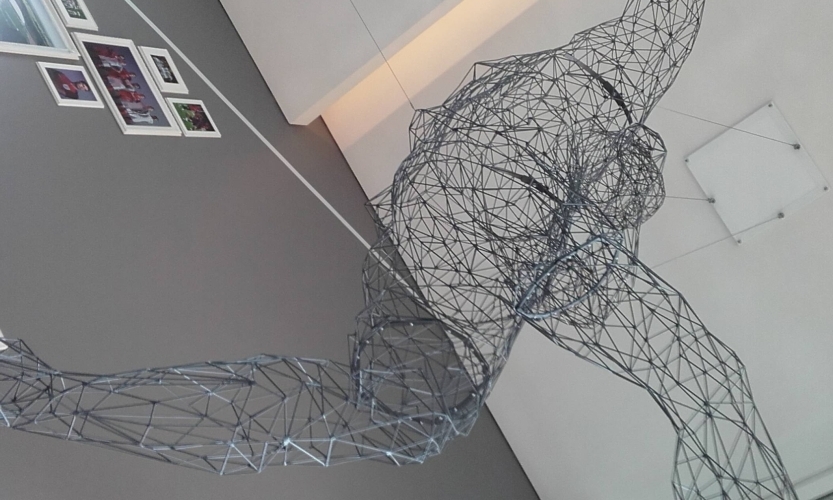 Sculpture of footballer (modelled on Rooney)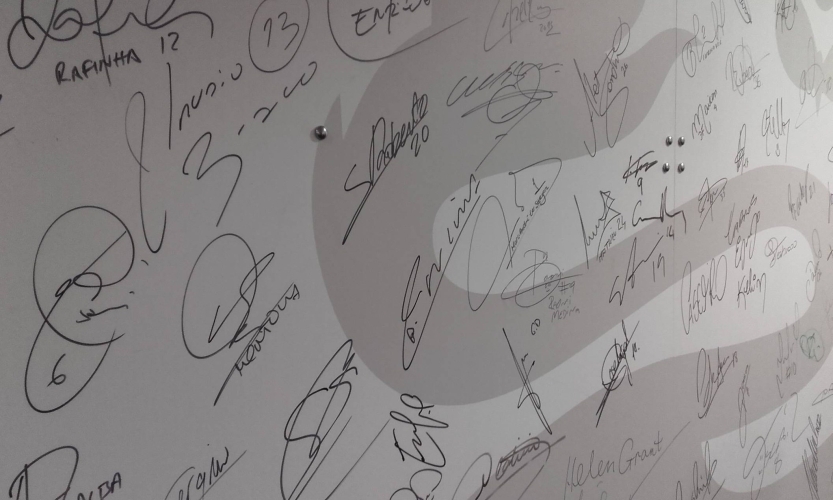 The Autograph Wall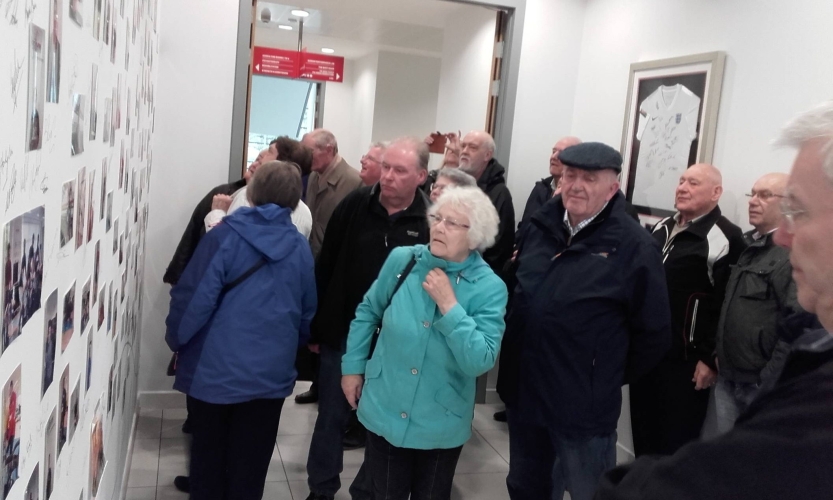 Senior Tigers at the Autograph Wall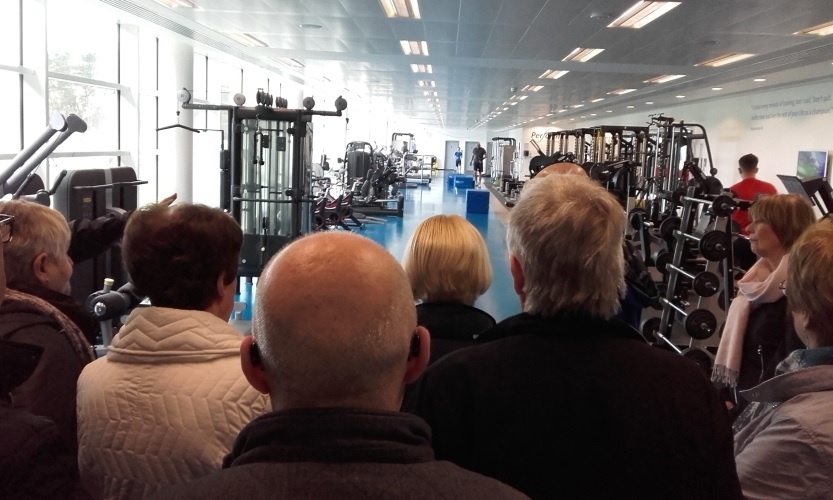 Senior Tigers at the gymnasium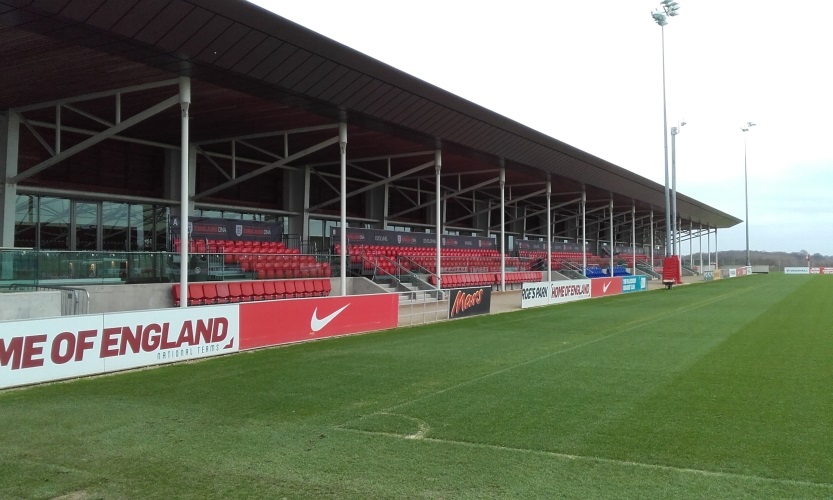 The No 1 England Training pitch
Memorial at the "Shot at Dawn" site in the Arboretum
Grave of Pvt Charles McColl in Ypres
From the National Memorial at Alrewas